Well, we made it through one year. The winners have been decided, and the prizes presented. Certificates are going out to the honorable mentions. And one happy winner has got back to us. Here is a photograph of the award for Long form sent to us by Georges-Olivier Châteaureynaud.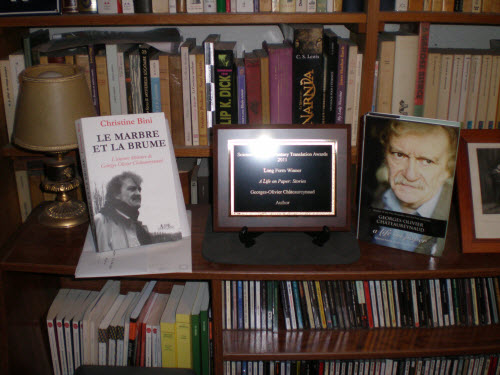 Before moving on we should once again thank all of the people who made this year possible. So very warm thanks once again to the authors, editors and publishers who donated books:
Neil Gaiman, Ann VanderMeer, Jeff VanderMeer, Gary K. Wolfe, Peter F. Hamilton, Kari Sperring, Nick Mamatas, Pyr Books, Nanopress and Tachyon Publications.
To the organizations who have sponsored us:
To our volunteer jurors: Terry Harpold, Abhijit Gupta and and Dale Knickerbocker.
And to everyone who donated money in our fund raiser.
Now we need to get on with next year. More on that soon.