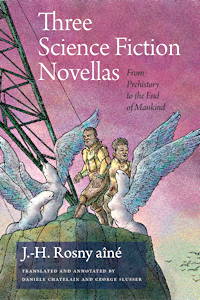 Wesleyan University Press have sent us a copy of a new book containing translations of three novellas by Belgian author, J.-H. Rosny Aîné (Joseph-Henri Boëx, 1856–1940). A contemporary of Verne and Wells, Rosny Aîné is largely unknown in the English-speaking world, but had a key role in the development of science fiction. Like Wells and Olaf Stapledon, he had a fascination with the long-term evolution of humanity. He was also the first writer to try to imagine intelligent beings who are truly alien, as opposed to just humanoids from another world.
The book is titled Three Science Fiction Novellas: From Prehistory to the End of Mankind, and reflects Rosny Aîné's obsession with the long view. The three stories are described by Wesleyan as follows:
"The Xipehuz" is a prehistoric tale in which the human species battles strange geometric alien life forms. "Another World" is the story of a mysterious being who does not live in the same acoustic and temporal world as humans. "The Death of the Earth" is a scientifically uncompromising Last Man story.
The translators, George Slusser and Danièle Chatelain, are well known for their studies of French literature. Professor Slusser is also the curator of the Eaton Collection of science fiction at the University of California, Riverside. The pair also contribute a lengthy introduction covering Rosny Aîné's career and his influence on the genre.